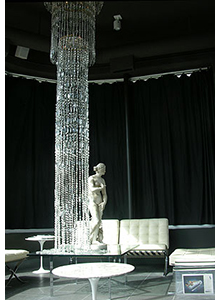 Reusing something old is brought to a dramatic art form at Denny Kemp Salon in Minneapolis. Artist of hair and space, owner Denny Kemp uses his own creative eye in revamping a unique art deco building nestled in a small triangle of northeast Minneapolis.

What is evident and exciting at the Denny Kemp Salon is Denny's eye for design and his appreciation for the classic beauty and quality found in antique architectural elements especially in a grand scale. The play between old and new or antique and contemporary gives each style its own emphasis, highlighting the qualities of each selected piece as they share the same environment.
Remodeling an 1890's 3 story store front in a historic St. Paul neighborhood takes perseverance and dedication, but the results can be unique and wonderful. The owner of this loft space is a huge fan of architectural salvage. Each reused item was hand selected and so well planned that many items appear to have always belonged in the space.

Construction began by taking the space down to the studs, replacing windows, exposing original brick walls and timbers for texture and opening up the space to a multitude of unique design possibilities.